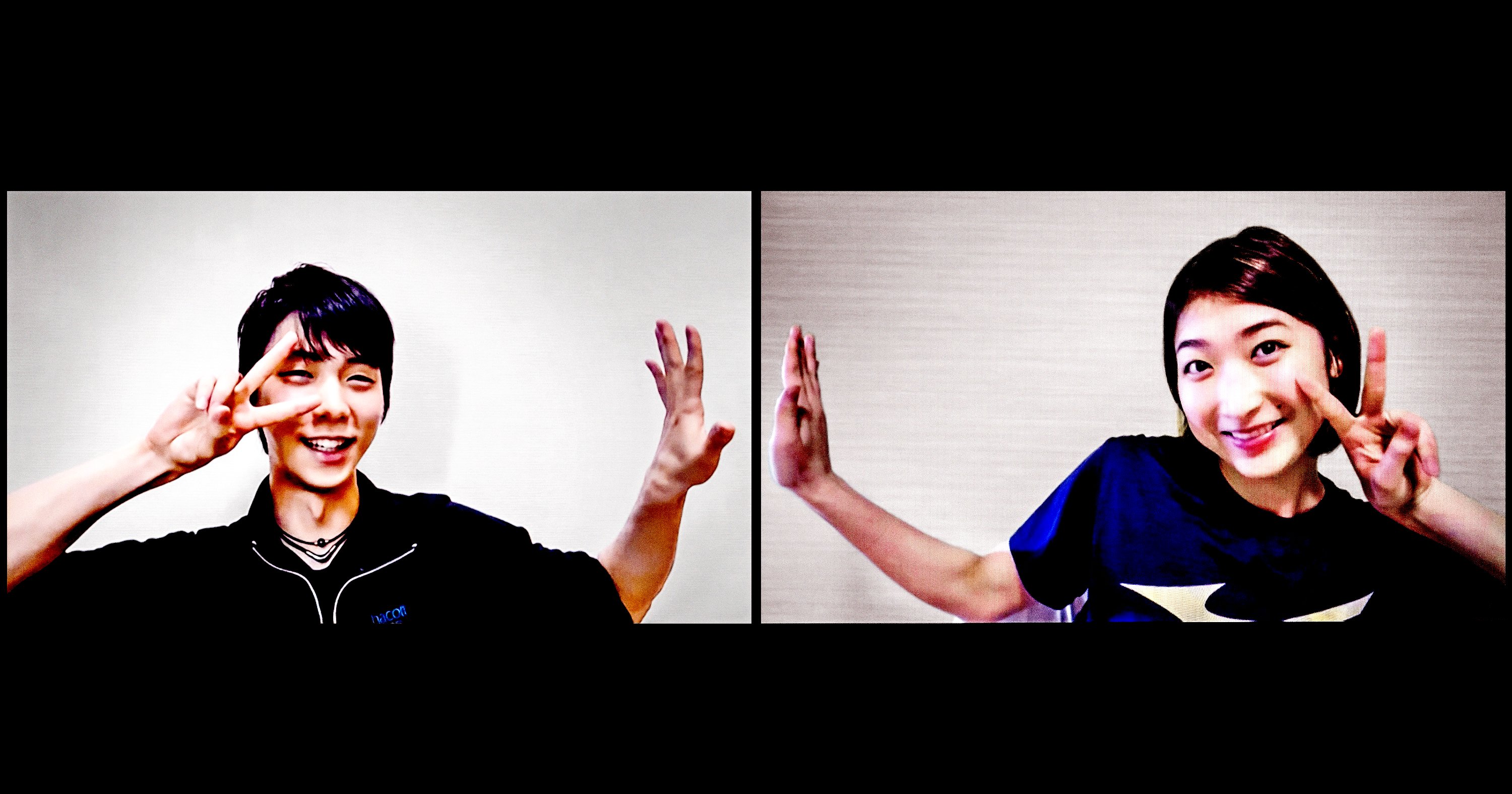 Preview article originally published 13 July 2021. Note that this is not the full article.
Source: https://number.bunshun.jp/articles/-/848840
Translation: @axelsandwich
Proofreading: @shinjistarxx
 東京オリンピックを間近に控えたある日、東京と仙台を結んでのビッグ対談が、雑誌Number「オリンピック開幕直前特集」で実現した。
As we draw closer to the Tokyo Olympics, a 'great exchange' that connects Tokyo and Sendai took place in this special Pre-Olympics Numbers edition.
 今夏、再び祭典の場に姿を現す水泳の申し子、池江璃花子と、冬の王者、羽生結弦の初顔合わせである。
This is the first face-to-face meeting between the golden child of swimming, who has once more taken to the competitive stage, Rikako Ikee, and the champion of Winter, Yuzuru Hanyu.
 ふたりには、オリンピアンであるということ以外にも、大きな共通点があった。それに気づいていたのは羽生結弦のほうだった。
Besides both being Olympians, the two share another significant commonality. The one who noticed this was Yuzuru Hanyu.
 対談の冒頭から、池江に対して、「若いのにいろいろなものを背負って頑張ってるなとずっと思っていて。ご自身の病気のことはもちろん、他の病気にかかった人を勇気づけたいとか、元気になってほしいというものまで全部。そんなに背負わなくてもいいんじゃないかなと思いつつ、背負っているから強いんだろうなとも」と気遣いを見せた。
From the outset of the conversation, he showed his concern for Ikee, saying, 'I've felt this whole time that though she's young, she's had to shoulder the weight of various things and has worked really hard. Of course, there was dealing with her own illness*, but also wanting to give courage to others who were also sick and wanting to get better, all of those things. While I feel that she doesn't have to bear all of that weight, it's perhaps because she's carried these burdens that she is strong.'
*Ikee was diagnosed with leukemia at 19yrs old in February 2019.
 池江は、それにこう答える。「確かに背負わなくていいことまで背負っている気は自分でもしています。復帰してからは、病気した人代表みたいなものをすべてのレースで感じていました」
Ikee replied: 'It's true that I'm carrying the knowledge that I shouldn't shoulder these burdens. After recovering, I've felt at all races that I'm almost like a representative for those who have been ill.'
羽生「当時はすごく重たく思っていた」
 大病を患い、昨年復帰。みるみると競技者としての回復を見せた池江が、人知れず背負っていたもの。羽生は遠いところからもそれを察していた。なぜなら、自分も避けられない天命により、いまもなお、重りを背負っているからだ。
Hanyu: "I think at the time, it weighed on me very heavily."
The worry of the illness and the recovery last year. Ikee, who seemed to recover and return as a competitor in the blink of an eye, had been shouldering burdens unbeknownst to others. From afar, Hanyu could sympathise with this. It's because even now, he has also been shouldering a heavy weight that fate had laid upon him.
「僕も、16歳の時に東日本大震災があって、やっぱりあれからすごくいろいろなものを背負い始めたなと感じていて。
"For me too, since the 3/11 disaster happened when I was sixteen, I feel that from that time, I had started to really shoulder these various things."
 今も、東日本大震災の支援や復興に関する依頼はなるべく受けるようにしているのですが、当時はすごく重たく思っていました。大震災という天災が起きて、急に、被災地で頑張っている人間だから(日本代表に)選ばれているんだ、というように思われるのは、すごく悔しかった」
"Even now, I try wherever possible to accept requests to help out with [financial] support and recovery in the affected region, but at the time I thought of it as an incredibly heavy weight. The natural disaster suddenly happened and then when it was thought that I was chosen to be the representative of Japan [in figure skating] only because I was someone doing my best in the affected disaster area, I felt very frustrated."
 冬季オリンピックで2連覇している羽生を前に、少し緊張気味の池江だったが、優しさと温かさ、時に強さを交えて語りかける王者に自身も心を開いていく。
Though she was initially a little tense and nervous in front of the two-time Winter Olympic champion, through a combination of the kindness, warmth and especially strength conveyed through Hanyu's words to her, Ikee also was able to open up.
 そして話題は、オリンピックの心構え、最近もっとも悔しかったこと、一人で泣くとき、今乗り越えようとしている課題など、トップアスリート同士だからこそ語り合える内容に及んでいく――。
In addition, the conversation topics included how to prepare for the Olympics, recent and past frustrations and regrets, times when they cried alone, and how to overcome those difficulties now. It's because they are both top athletes that they could trade notes on all these topics.
 いつまでも聞いていたい、珠玉の対談だった。
It's a gem of a conversation you'd want to listen to, anywhere and anytime.