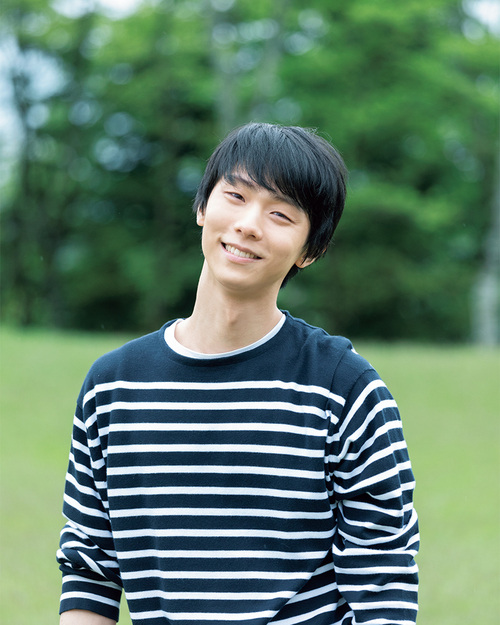 Original article was first published 10 October 2021
Translation: @axelsandwich
Proofreading: @shinjistarxx
フィギュアスケート界を牽引するトップアスリート、羽生結弦さん。昨今のコロナ禍で本拠地カナダへは戻れず、ただ一人トレーニングを続け、昨年末の全日本選手権では5年ぶりの優勝を飾りました。圧倒的な強さと美しさを持ち、前進を続ける羽生選手に会いに、新緑あふれる杜の都・仙台へ向かいました。
Yuzuru Hanyu, the top athlete driving the figure skating world. Due to the coronavirus pandemic, he did not return to his training base in Canada but continued training all alone and marked his first victory in 5 years at the Japanese National Championships at the end of last year. In order to meet with Hanyu-senshu, who possesses extraordinary strength and artistry and is continuing to advance his craft, we travelled to Sendai, the city of forests overflowing with greenery.
スポーツでありながら美しさを求められる芸術的な側面を持つフィギュアスケート。一番必要なのは、こだわりと意識の高さだと語る。
Figure skating is a sport that has an artistic facet that judges according to a standard of beauty. He spoke about how the most important things are high attention to detail and awareness.
「技の完成度と美しさを競う競技ですが、ジャッジするのは人間なので、いろんな価値観の人に届く演技でなくてはならない。こだわりと意識の高さを持っているからこそ努力を続けることができるんです。どれだけ自分を客観視できるかも重要で、表現したいことを優先するだけでは独りよがりの演技にしかならないと感じますし、見る人に何かが伝わることで初めてプログラムが完成する。ハッピーなプログラムなら、見た人が次の日からも頑張れたり、心が前に動くきっかけになればいいなと思う。切ないプログラムなら、その人の痛みや経験に寄り添えるものにしたい。まだ26年しか生きていないですけど、自分なりのストーリーや感情を表現したいなと思うこともあります。それは過去だけではなくて、未来への思いや、現在進行形で感じていることだったり、様々なんですけど」
[Figure skating] is a competition [judged] by the perfection and beauty of its moves/skills but, as you are judged by human beings, you have to put out performances that appeal to people with differing values. It's because I have high standards for the details that I fixate on and am aware of [in my performance] that I can continue to give my all. Though it's important how objectively I can evaluate myself, if I just fixate on what I want to express, I feel I'd only be able to put out self-centered performances, so a program can firstly only be complete if it can convey something to the audience. If it's a happy program, I'd wish that the people watching could do their best the next day, and that it could prompt them to move forward in their hearts. If it's a sad program, I'd like it to be a way for the people watching to connect with their pain and experiences. I've only lived 26 years, but I'd like to express my own story and feelings. Not only in relation to the past, but my feelings towards the future, and the things I'm experiencing currently… though it's very varied.
オフシーズンの現在も練習場に通う毎日。モチベーションについて尋ねると。
Currently during your off-season, you are commuting every day to your practice rink. Can we ask you about your motivation?
努力の結果が全て。成果が出た時が一番のご褒美だと思っています。頑張ったら何が食べたいとか、買おうとかではなく(笑)、達成した時の喜びを味わいたいから。些細な目標でも、日々何かをやり遂げるようにしたいですね
The results of your hard work is everything. I think the number one happiness is the moment the results come. It's not anything like 'oh I'll get to eat this or buy this if I work hard' (laughs), it's because I want to taste the happiness at that moment of accomplishment. Even if it's a small goal, I try to follow through and accomplish something every day.
数々のタイトルを獲得してきたが、メンタルが強いと思ったことは一度もないのだそう。
We've heard that though you've secured countless titles, you've never once thought that you were mentally strong?
「試合はもちろん、アイスショーでも気持ち悪くなるぐらい緊張しますし、眠れない夜もたくさんある。でもそれは自分の理想が高いから。だから常に最善を尽くすしかない。練習するだけでなく、休んだり、時には何も考えないことも含め、自分が一番良いと判断した選択を積み重ねることによって、たとえ結果がその時に出なくても、必ず強くなっていってると思う」
Of course this happens at competitions but even at ice shows, I get so nervous that I feel sick and there are many nights I can't sleep. But that's because I have high ideals. So I can only give my everything. If I can live by the choice that I've judged as the best one, not only in practice but during times of rest and including occasionally when I'm not even thinking about anything, I think you will definitely become stronger, even if you don't get the results you wanted at the time.
「次の試合は勝ちます!」という発言で自分にプレッシャーをかけることも多い。
You'll often bring pressure onto yourself by saying things like 'I'll win the next competition!'
「できると信じているから。願いを言葉にすることで、脳にもいい作用があると思っています。押し潰されそうな気持ちを原動力にして頑張るイメージ。力んでしまったり、お腹が痛くなることもあるんですけど、その力をいい方向に変えることができれば。緊張しているからこそ丁寧に、集中して取り組むことができる」
It's because I believe I can do it. I think putting my wishes into words has a good impact on my mind. When I feel like I'm going to be crushed down, I change that to motivation and keep working hard. Though I do get overwhelmed and there are times my stomach hurts, I hope I can turn that power in a good direction. It's because I get nervous that I can, single-mindedly, concentrate and tackle problems head on.
近年の試合では「天と地と」「新・平家物語」や「SEIMEI」など日本をテーマにした選曲でも知られる。羽生さんは日本人としてのアイデンティティをどのように考えているのか。
In competitions in recent years, we know you have chosen music with Japanese themes like 'Ten to chi to' and 'SEIMEI'. What do you think of your identity as a Japanese person?
「実はそんなに意識をしていなくて、むしろ日本人だから忍耐強いとか、丁寧だとか、固定観念に縛られると良くないなと感じます。それがコンプレックスになる人もいると思う。みんなそれぞれ違うからこそ、みんながいい。外国の選手に会うと価値観が違うこともありますし、スケートに対する態度も人それぞれ。でも最終的に何かを一緒にやろうとした時に、一つになることができる。そういうことがSDGsが掲げるダイバーシティな社会だと思いますし、大事なことだと思います」
To be honest, I wasn't thinking about it like that; on the contrary, I feel that it's not a good thing to be stereotyped as persevering and polite because we're Japanese. And I think there are people who have a complex against that. It's because everyone is different from each other that they are good. When I meet with foreign athletes, there are differences in our values and each person's attitudes towards skating is varied. But ultimately, when it comes time to do something together, we can unite. That is the sort of diverse society that Sustainable Development Goals (SDGs) stand for, and something I think is very important.
昨年9月、7年間学んだ早稲田大学の人間科学部通信教育課程を卒業した。
Last September, you graduated from the Human Sciences e-School course at Waseda University after studying for 7 years.
「スケートも勉強も、知識って大切だなと。SDGsの活動についても、自然の中にある、限りある資源を持続可能なものにしていくための勉強をして、そういったプロダクトを選ぶことをしていきたい。僕自身はゴミの問題が気になるので、練習中には常にマイボトルを持ち歩くのを心がけています。ささやかでも自分に何ができるのかを問うことは一つの前進なのかなと思うんです」
In skating and also in studying, knowledge is important. In regards to SDGs' activities as well, I did research into items that attempt to keep the limited resources in our natural environment sustainable and I want to choose those kinds of products [to use]. I'm personally interested in the problem of rubbish, so I try to normally carry around reusable bottles in training. Even though it may be small, I think one way to keep moving forward is to ask myself what I can do.